Bombing
"Bombing" in the graffiti world refers to the act of vandalising property with one's signature or logo. "Bombing"-type graffiti can manifest itself in many different forms, but always happens illegally.
Subway graffiti
A primary target for graffiti in urban environments are subway trains. This is especially true for New York City, where "going all city" is considered the holy grail. This phrase means to have your tag inside and outside on a train running each of the many lines of the NYC subway system.
Aerosol or "spray can" art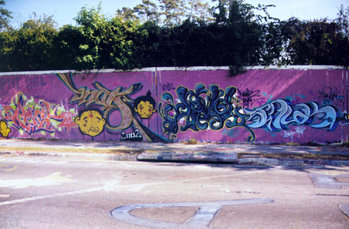 The strand of graffiti art which is considered one of the four elements of hip hop culture is usually denoted urban 'Aerosol Art'. Sometimes synonymous with "hip-hop heads," so-called graffiti artists have gone beyond that stereotype and are abundant even among middle-class white children. Different genres exist, from Philadelphia's wicked style to California and New York's wild style graffiti. Graffiti artists are classified based on their style and sometimes even on what surface they use.